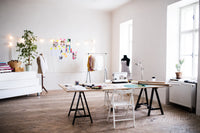 Sewing Supplies for Your Next Project
Sewing gives you freedom to create whatever you like with fabric. With a little skill and hard work, you can turn ordinary fabric into a beautiful work of art. At Vicki's Sewing Corner, you'll find all of the essential sewing supplies you need to complete your next sewing project like sewing needles, sewing thread, and sewing scissors. Browse through our selection and find the right sewing supplies for you.
Get Creative with Vicki's Sewing Corner!