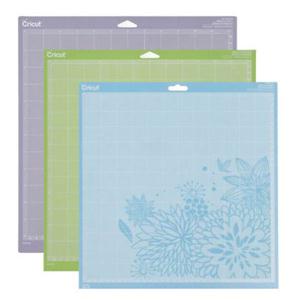 Craft, Card Stock, Vinyl, , Paper, Vellum,  Magnet, Chipboard, Poster Board, Fabric 12" Length X 12" Width- Green, Blue, Purple
General Information
Manufacturer:   Cricut, Inc.
Manufacturer Part Number:   2003546
Manufacturer Website Address:   cricut.com
Brand Name:   Provo Craft
Product Name:   Cutting Mat Variety 3 pack
Marketing Information:  
Ensure extraordinary results with three new Cricut® cutting mats! The new Cricut® Cutting Mats have been customized to match the weight of commonly used crafting materials.
The Standard Grip mat has been re-formulated for improved performance. It's perfect for a wide range of medium-weight materials, including patterned paper, vinyl, iron-on, and cardstock.
Specially formulated for lightweight materials, the long-lasting Light Grip mat allows you to easily cut and remove common office printer paper, vellum, light cardstock, and more.
The Strong Grip mat offers a strong hold surface perfect for heavyweight materials such as specialty cardstock, glitter cardstock, chipboard, and fabric with stiffener. It's our longest lasting mat featuring double life adhesive technology.

Packaged Quantity:   3 / Pack
Product Type:   Cutting Mat

Product Information
Mat Width:   12"
Mat Length:   12"
Application/Usage:   Fabric
Application/Usage:   Magnet
Application/Usage:   Vinyl
Application/Usage:   Card Stock
Application/Usage:   Chipboard
Application/Usage:   Craft
Application/Usage:   Paper
Application/Usage:   Poster Board
Application/Usage:   Vellum
Features:   Adhesive

Physical Characteristics
Color:   Blue
Color:   Green
Color:   Purple

Miscellaneous
Package Contents:  
1 x Light Grip adhesive cutting mat
1 x Standard Grip adhesive cutting mat
1 x Strong Grip adhesive cutting mat